CHEF JEREMY HOLMES FEATURED IN THE CURRENT
September 7, 2023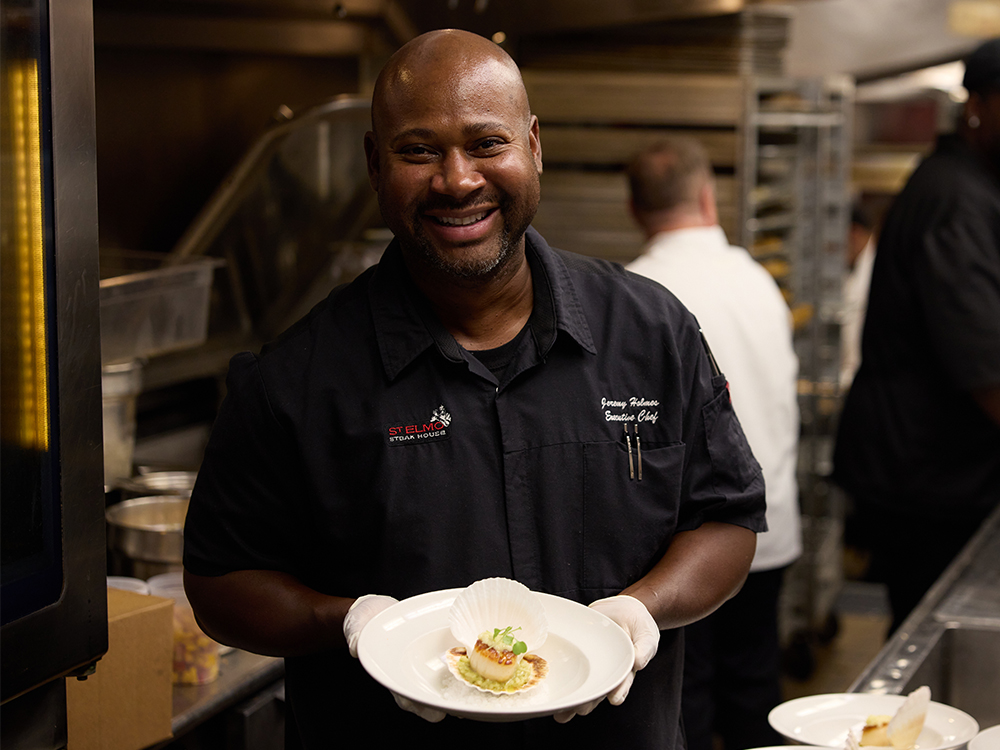 Mark Ambrogi interviews St. Elmo Steak House Executive Chef, Jeremy Holmes on his culinary journey.
Jeremy Holmes understands he is blessed to be the executive chef at perhaps the most well-known restaurant in Indiana. "We've been here since 1902," Holmes said of St. Elmo Steak House in downtown Indianapolis. "I definitely wear that badge proudly and I don't take it for granted," the 45-year-old Fishers resident said. "I know that I have a job that a lot of people want. I come to work every single day proud of that and make sure I do my best to my ability to keep that. You never know who is going to walk through the doors. I've seen (everyone) from Ciara to Shaquille O'Neal to John Travolta." Holmes enjoyed meeting former San Diego Chargers running back LaDainian Tomlinson. "He and I had a deep conversation because I saw one of his pieces on HBO, how he was raised in the South," Holmes said. "His family grew up on a plantation, and that kind of resonated with me. So, I talked to him in the 1933 Lounge (in the upstairs of the restaurant) about how his piece touched me and he reminded me of my hometown (in Mississippi), you know, so he and I connected a little bit for that short period of 15-minute conversation."
Holmes also has appreciated his interactions with former Indianapolis Colts quarterback Peyton Manning through the years. "He's such a down-to-earth guy, really cool, really nice," Holmes said. "(When) word gets out when Peyton is in town, we get a crowd forming outside." One of his favorite customers is CBS sports broadcaster Jim Nantz. "He's a great guy," Holmes said. "He's a fan of St. Elmo. He talks it up on the air and put it in his book. When he's in town, he makes it a point to come in here, and he and I are on a first-name basis."
Holmes has been at St. Elmo for 24 years. He moved to Indianapolis with his cousin in 1996 from Mississippi, the day after he graduated from high school. "I had three older brothers living here, and two of them were in the restaurant industry," he said. "So, we technically had a job waiting on us when he moved here. Taco Bell was my first job." He worked at Taco Bell for about a year before picking up a second job at an Arby's. He then moved into a prep cook role at an Outback Steakhouse. "One of my brothers was the assistant kitchen manager (at St. Elmo) and recruited me here in April of 1999, and I've been here ever since," he said. Holmes started as a pantry chef and worked his way around all the stations. He was a sous chef at the catering business for about two years. He got the position of lead boiler cook before moving into the executive chef position in 2010.
Holmes said his specialty is pasta. "On my days off, I make some kind of pasta dish," Holmes said. "It's not typically something you should eat every day, but it's my guilty pleasure." Holmes, however, cooks plenty of steaks. "I'm still one of the best grill cooks here, if not the best," he said. "Every once in a while, I have to get back there and show them who is the top dog." His biggest duty is overseeing the entire operation. "Lately, I've been working the grill with the guys because we got understaffed a little bit or somebody called in sick or for whatever reason," he said. "So, I jump in and then when I'm back there, it's like being back home. I do kind of miss it a little bit. But I'm not missing doing it five days a week anymore."
St. Elmo is a place where many employees stay for years, Holmes said. The Legends room features paintings of employees who have been there 30 years or more. "Every year, we have dinner for those (who have been) here 20 years or more and it's like 30 people," he said. "People typically don't leave because Steve and Craig (Huse) are great owners to work for. Their goal is to make each person feel they are part of something great and what we're building here."
Read More Here