OUTDOOR DINING AT HUSE CULINARY
September 7, 2023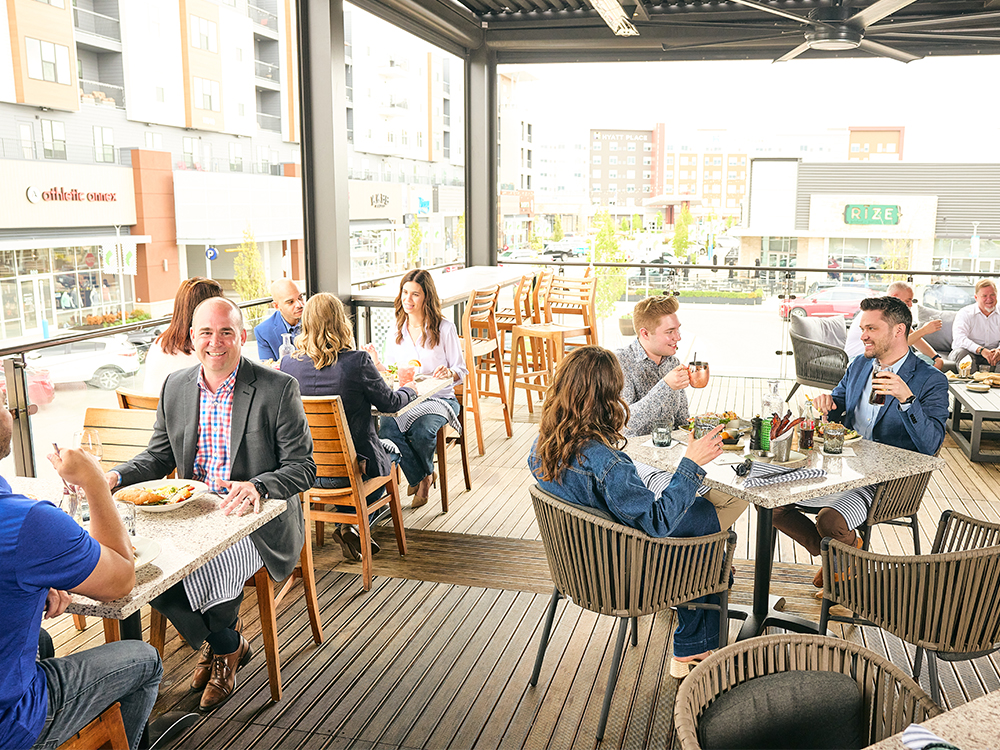 Mark Ambrogi interviews the VP of Operations at Huse Culinary, Jason Benish, to discuss 3 season outdoor dining options at Huse Culinary restaurants.
There may not be scenic ocean views, but the outdoor dining experience continues to grow in popularity in the Indianapolis area. Jason Benish is vice president of operations for Huse Culinary, which includes Harry & Izzy's on the north side of Indianapolis and HC Tavern + Kitchen and 1933 Lounge in Fishers. Huse Culinary also operates St. Elmo Steak House and Harry & Izzy's in downtown Indianapolis.
"We used to have no overheard shelter," Benish said of Harry & Izzy's on 82nd Street. "It was simply sun and umbrellas. We struggled with umbrellas for a number of years. They don't look great after a while." During the height of the COVID-19 pandemic in 2020 and 2021, patrons felt safer to dine in open-air restaurants. Benish said the desire for outdoor dining started before the pandemic but grew fast in its wake. Benish said they invested in a louvered roof system at the northern Harry & Izzy's first and then the two Fishers restaurants. "We can open and close the louvre based on sunlight and direction," Benish said. "That was a great first step. From there, we found it's still very cold in the winter outside. We took the next step to install vinyl-paneled walls in the winter months. The following season, we put in 15 outdoor heaters out there. We started to get some traction, and most of that was happening during the peak of COVID. So, there was definitely a strong interest in outdoor dining. We had a lot of success. On one of the COVID Christmas Eves, we brought in more heaters and people liked it.
I think things have normalized a lot from an outdoor perspective. It's a popular place to dine when the weather is lovely." There are cooling fans as well during the summer. Benish said 18 months ago, the restaurants installed outdoor carpet to soften the space. Then they started dressing the tables with white tablecloths. "We really tried to create the comfort of the indoor dining experience and try to elevate that," he said. Benish said they purchased new bar stools for the high-top tabletops outside at Harry & Izzy's. Benish said it's around three seasons of outdoor dining at Harry and Izzy's and all four seasons at HC Tavern and 1933 Lounge, except for the three or four coldest weeks of the year.
Claudio Bertolini, co-owner of The Smart Pergola, said his company has installed about 40 pergolas at restaurants in Hamilton County and the north side of Indianapolis with a few more planned. "During COVID, the restaurants were calling us because due to the social distance, they had to utilize as much space as they could," Bertolini said. "Now, they are calling because restaurants are extremely busy and outdoor dining has boomed and become more and more popular." Some of the restaurants include Woody's Library, Bar Louie and Muldoon's in Carmel. Noblesville restaurants include Ford's Garage and Livery at Hamilton Town center. "Our patio has been very popular from spring going into fall," Bar Louie bar manager Sydney Brothers said. "We have the option of having the patio enclosed and kicking on our outdoor heaters to keep the patio warm during those cool fall nights. Along with having a warm spot to sit during the cooler months, we have multiple fans that keep the space cooled off for those warmer summer days."
By Mark Ambrogi
Read More Here