ST. ELMO BARTENDER, CHUCK SYPULT, FEATURED IN PUNCH MAGAZINE
September 27, 2021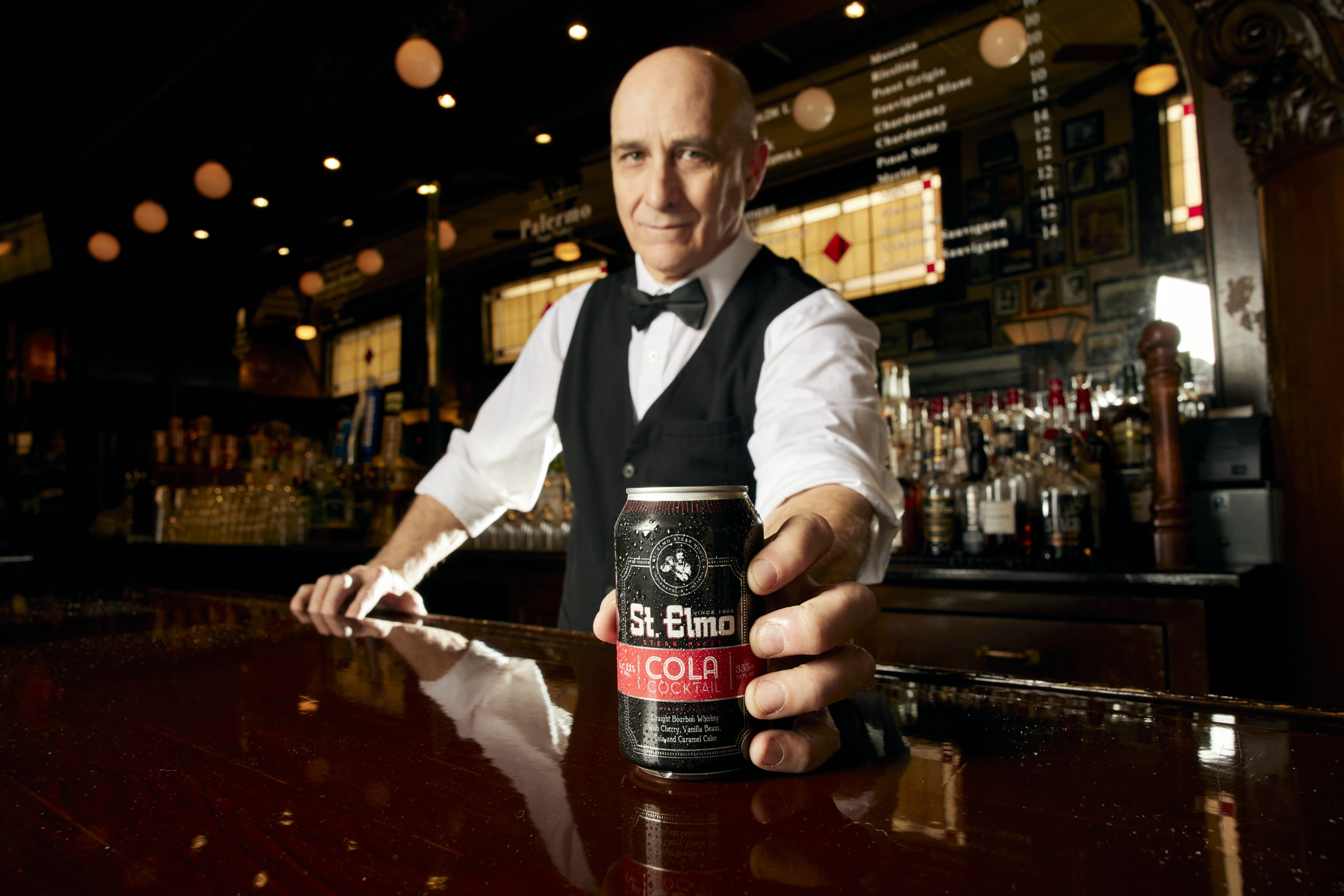 Bartender Chuck Sypult has spent 37 years working two blocks of downtown Indianapolis. Twenty-five of those have been behind the mammoth wooden bar at the St. Elmo Steak House, a cherished city presence since 1902, famous for its Old World atmosphere, traditional service, sinus-clearing shrimp cocktail and signature drink: the Elmo Cola, a cherry- and vanilla-tinged Bourbon & Coke highball.
There's a lot of room behind the St. Elmo bar, and Sypult, in a black vest, white shirt and bow tie, doesn't occupy any part of it for very long. Agile and alert, he is forever opening and closing cabinets, filling wine glasses, ringing out checks, eyeballing long pours of rye for one of his famous Old-Fashioneds and retrieving food from the kitchen for customers dining at the bar. When he has nothing pressing to do, he looks anxious and starts helping out younger, slower bartenders. With his friendly, husky voice, Sypult is eager to start conversations with new guests, and keep conversations going with regulars. With one patron, he'll discuss the Olympics; with another, he'll recommend the Indiana State Fair. No matter what he says, it's with a smile on his face and a willingness to poke fun at himself. Asked if the enormous old safe at the end of the bar works, he said, "It did, until I broke it a few years back. Now, it's just a very large, very heavy filing cabinet."
How did you first find yourself behind the bar?
My first job was as a barback in a little bar near Butler University in Indianapolis. I'd do that on the weekends, as a bouncer and barback, for money while I was going to Butler. I graduated and my dad asked, "Well, did you go to your interviews?" And I said, "No, I've started bartending at a place a buddy of mine owns." And he said, "Well, why don't you have some fun right now, bartend for a while and find out what you want to do." I just kind of never got out of it.
How did you get the job at St. Elmo's?
The first bartending job I got was at a place called Ike and Jonesy's, which was just two blocks away from St. Elmo's. I thought the other bar was going to go out of business. So I asked St. Elmo's if they needed anybody and they did. I started working both places at one time. I ended up just staying at St. Elmo's, which I think was probably one of the best decisions of my life.
What qualities make for a good bartender?
I don't think mixing drinks makes for a good bartender. I think bartending is a noble profession that is more about making contact with people. It's more getting to know your guests, entertaining your guests, talking to your guests. It encompasses a lot more than making drinks. If you've got a guy from out of town eating his dinner at the bar, he wants to be talked to, he doesn't want to be ignored. People want to be entertained when they're having drinks at a bar. That's a big part of the bartender's job.
What advice would you give a young bartender just getting into the business?
Know your drinks and be professional—all that normal stuff. And build your regular base. I think regulars are the key to the business. When people come back to see you, that means more money for the business, and the owners of the business like that. Because you're working for the restaurant.
What drinks do you serve the most?
Old-Fashioneds. Times have changed. It used to be all vodka drinks. Now people are drinking more bourbon. People's tastes are becoming more sophisticated. Now it's more into the brown liquors. But now tequila is making a comeback, too. Tequilas are all the rage.
What's the weirdest drink order you've ever gotten?
A warm double triple-sec in a snifter.
What's your favorite drink.
I'm a rum guy. I like the Ron Zacapa. I like the darker rums. On the rocks, maybe a splash of Coke with it and a lime.
I could tell from the pictures on the walls of St. Elmo's that you get some well-known people there from time to time. What famous people have you waited on?
If I had to tell you my favorite, it would probably be Jeff Beck [guitarist from the Yardbirds]. He was the coolest. He was neat. He sat at the bar and I got to talk to him for about three hours. He was the coolest guy I've ever met in my life, to tell you the truth. He was doing a show in town. He was with Ann Wilson from Heart and Paul Rodgers from Bad Company. It was really surprising. I was in the service well for a long time. These customers said, "We've got one more guy coming." I said, "No problem." I got them drinks. A guy comes up, sits down with them. I'm kind of looking at the guy and thinking, "This guy's trying to look like an old rock star."
You also get members of the Indianapolis Colts in there, too, don't you?
Yes! Peyton Manning was a big friend of our owners. He was in quite a bit when he was still in Indianapolis. He's a great person. He always treated us well. He'd drink Bud Light. One night he came in. The Colts had gotten beat by a 65-yard field goal. It was a Sunday night, late. He stopped at the bar. I said, "Can I get you a Bud Light?" He said, "No, I need something stronger." "A Margarita?" "No, something stronger than that?" I said, "How about a Martini?" He said, "Perfect." He's sitting there drinking his Martini and one of our younger bartenders comes up and says, "Peyton, I never saw you drinking a Martini before." And Peyton looked at him and said, "I've never seen a 65-yard field goal before."
Read more