FOOD IS AT THE HEART OF EVERY TRAVEL EXPERIENCE
From dinner with loved ones to lunch on your way out of town, memories are made around the dining table. Take the guesswork out of your next trip to Indianapolis and check out our roundup of local eats, including Indy's most celebrated dish - St. Elmo Shrimp Cocktail.
DOWNTOWN INDIANAPOLIS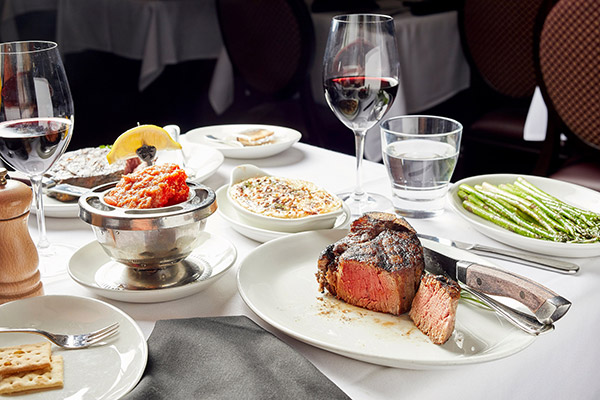 St. Elmo Steak House, 1933 Lounge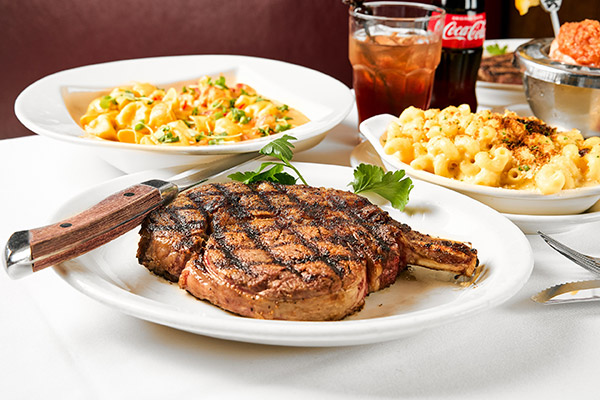 Harry and Izzy's Downtown
St. Elmo Steak House and 1933 Lounge:
Plan the perfect date-night-to-remember with a reservation at one of America's most romantic restaurants, St. Elmo Steak House (127 S. Illinois St). When it comes to dinner, you really can't go wrong at the legendary St. Elmo Steak House. From the world-famous St. Elmo Shrimp Cocktail to excellent steaks and seafood, Indy's most famous restaurant lives up to the hype. It's also the place to see and be seen! Take a play from Indiana icon, Peyton Manning, who's known to enjoy a New York strip here from time to time. Set the scene for the evening by grabbing a drink upstairs at 1933 Lounge. The speakeasy-style establishment features classic cocktails and an expanded bar menu.
Harry and Izzy's Downtown:
Basketball plays a pivotal role in Hoosier history - if you know, you know! Next time you're heading downtown to catch a Colts or Pacers game (or any event), grab a table at Harry & Izzy's (153 S. Illinois St) before walking to your destination. The sister restaurant to St. Elmo is conveniently located an easy walk from the Convention Center, Gainbridge Fieldhouse and Lucas Oil Stadium. Patrons of the upscale American grill say they can't pass up the filet sliders -- top it all off with an Espresso Martini or a beer on tap from Sun King Brewery, and you're ready for a slam dunk of an evening.
NORTHSIDE / KEYSTONE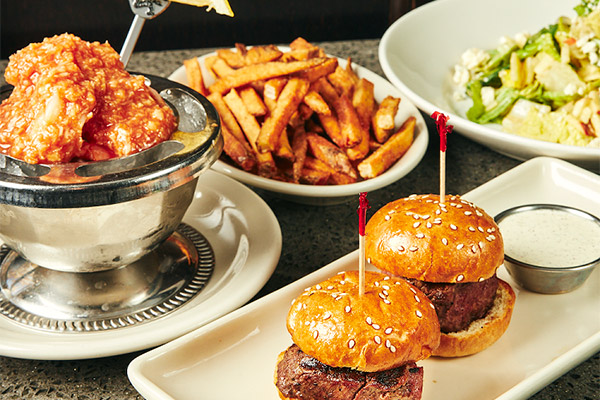 Harry and Izzy's Northside.
Harry and Izzy's Northside:
Turn your next afternoon of shopping into an experience starting with lunch at Harry & Izzy's Northside (4050 E. 82nd St). Everyone knows you cannot shop on an empty stomach, especially with the Fashion Mall at Keystone, Indy's premier luxury shopping destination nearby. Harry & Izzy's Northside will elevate your afternoon, providing a beautiful ambiance in a comfortable setting. Finish the day with a breath of fresh air at the Oliver Woods Nature Preserve located just off I-465. The urban nature preserve is complete with hiking and walking trails with views of the White River, providing visitors with 16 acres of woods and 37 acres of prairie-savannah restoration.
FISHERS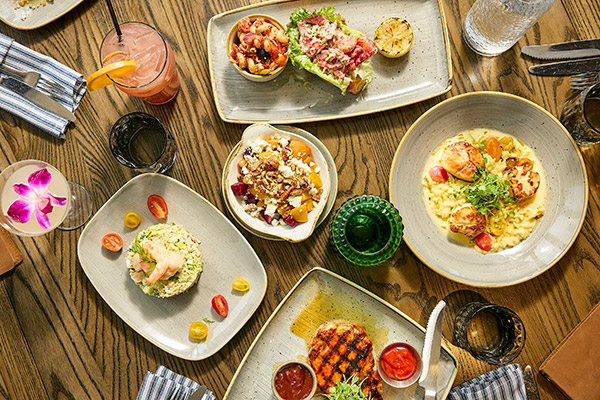 The HC Tavern + Kitchen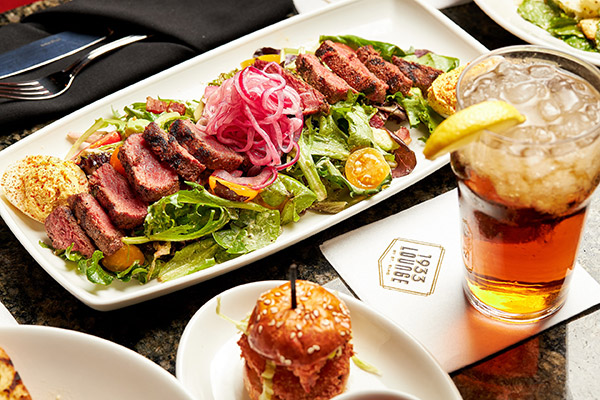 1933 Lounge by St. Elm
The HC Tavern + Kitchen:
Hoosiers everywhere rejoiced when IKEA opened a Fishers, IN location in 2017. But it's hard to complete a trip to Ikea on Swedish meatballs alone! First, head to The HC Tavern + Kitchen (9709 E. 116th St) for lunch or dinner. The lobster "cargot" and wagyu corn dogs are the perfect start to your meal. Brunch is also served Saturday - Sunday, accompanied by live music and the very best hand-crafted cocktails and mocktails! This family-friendly, classic American grill is the perfect spot to grab a bite to eat before a home decor shopping extravaganza or evening of fun at Top Golf.
1933 Lounge Fishers:
Situated conveniently in the bustling Fishers District, 1933 Lounge by St. Elmo (9707 District North Drive, Suite 1120) offers an expansive bourbon selection in addition to steaks, seafood and chicken in a relaxed, 21+ environment. Come in to try something new and stay for a signature Elmo Cola or Sazerac featuring 8th Day Distillery Absinthe. Patrons love the stunning seafood tower and Elmo roll (sushi topped with St. Elmo's sinus-clearing shrimp cocktail sauce) paired with a perfectly cooked steak.
INDIANAPOLIS INTERNATIONAL AIRPORT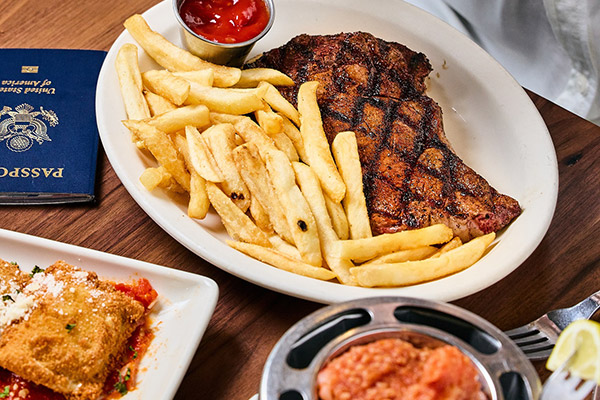 Harry and Izzy's Indianapolis Airport
Harry and Izzy's:
Nothing starts a vacation in the Circle City better than a Bloody Mary, and Harry & Izzy's at the "Best Airport in North America" does it right! Head over to Concourse A at the IND Airport and enjoy a good meal while you wait for your flight. Feeling adventurous? Spice things up with an order of Indy's most celebrated dish, the St. Elmo Shrimp Cocktail.